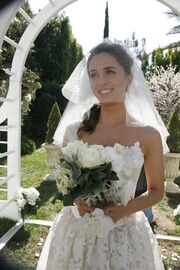 Roma Klar was an engagement identity of the Active known as Echo. She was hired by Paul Ballard (then an L.A. Dollhouse contractor) to marry and ensnare arms dealer Martin Klar (S2: "Vows").
Persona
[
]
Roma (maiden surname unknown) works with FBI Agent Paul Ballard to gain hard evidence of Martin Klar's illegal activities. As far as she is concerned, she and Ballard have been partners for three years. A long-term imprint, she seduces Klar and eventually marries him having earned his trust. She has no qualms about using sex as a tool to get what she wants from him. When she is exposed as working with Ballard, Martin slams her head down on a desk. (S2: "Vows")
Degradation
[
]
When Martin hits her, Echo wakes up and starts querying who she is this time; in professing how much she loves him, she gives her name as Mrs. Eleanor Penn (an old engagement identity, and a constituent part of her composite event) and then asks "No, wait. Who did they make me this time?" Other personae later surface, including Southern belle criminal Crystal. Paul Ballard later hits her repeatedly to goad Echo into remembering her persona as the trained killer from Chinese restaurant. Echo uses these skills to hunt down Klar, set off his own explosives, and for this he is sent to jail. (S2: "Vows")
Emergences
[
]
As Echo's one-time engagement, Roma Klar is one of the many personalities she can draw from once she becomes fully self-aware. In S2: "Stop-Loss", Echo notes that Roma Klar and Eleanor Penn are both vying to contribute their specific skills to analyse the scene of an abduction.