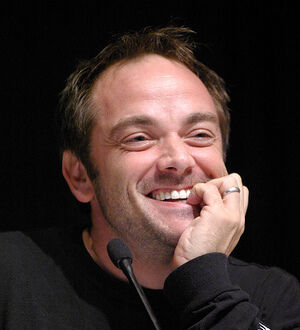 Mark Sheppard is a guest star on Dollhouse portraying Graham Tanaka. He was born May 30, 1964 in London and is of an Irish-German background.
Previous work
[
]
Sheppard worked with Joss Whedon before on two episodes of Firefly. He played Badger, a cockney-style crime boss, a role Whedon wrote for himself. He also played Romo Lampkin on Battlestar Galactica (co-starrng with Tahmoh Penikett).
Dollhouse

[

]
Sheppard was cast as Graham Tanaka in August 2008 for "The Target". He described his casting process: "It's pretty obvious from the character's name that I probably wasn't the first choice for the role! But I think Joss had wanted to include me and he asked me if I wanted to fill this particular spot - I think they've evolved this spot around the fact that they've now got me. But as I arrived and I'm waiting outside the stage and Joss is there I said, 'Can I keep the name!' He laughed and said, 'I knew you were going to say that.' So I think it's going to be one of those things where there's an interesting burden that shapes Tanaka!"[1]
Notes & references
[
]
External links
[
]