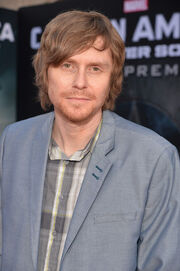 Jed Whedon is a writer for Dollhouse. He is married to Maurissa Tancharoen.
Previous work
Edit
Jed Whedon worked mostly as a composer for video game soundtracks before collaborating with his brother Joss Whedon and his then-fiancée (now wife) Maurissa Tancharoen on Dr. Horrible's Sing-Along Blog, where he contributed the main theme and other songs. He and Tancharoen also created the online series Apartment 4B.
DollhouseEdit
Whedon and Tancharoen have (co-)written the following episodes:
Songwriter/Singer
Edit
External links
Edit
Community content is available under
CC-BY-SA
unless otherwise noted.