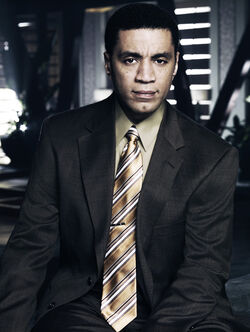 Harry Lennix (born November 16, 1964) portrays Boyd Langton, Echo's handler, on Dollhouse.[1]
Previous work
Lennix has appeared in several films: the Matrix series, The Five Heartbeats, Get on the Bus, Ray, and Barbershop 2: Back in Business. In television he has had recurring roles in Diagnosis: Murder and 24, and a voice-over role in the Legion of Super Heroes animated series, as well as several TV movies. He also stars in the Broadway show Radio Golf.
Dollhouse
Harry Lennix[2]"When I go into [the set] every time I'm actually filled with awe. It has a kind of reverential quality. At the same time, the goings on in the 'Dollhouse' are almost antithetical to what would happen in the church. But there's still an ethic that underlies, I think ... everybody who's essentially not an 'Active' There is a kind of quest for what is ultimately human, what actually is it to grapple with these questions -- when do you actually have free will? When do you actually get to make the decision of what is right and wrong, and are those ever objective, universal truths? So I think that, while it is not a church, the questions that are dealt with are equally humanistic and almost, to some extent, getting to what it is to be divine, what it is to live in a kind of alternate consciousness to our normal human selves."
References
External links